Tips to Look after and Repair Your Rainfly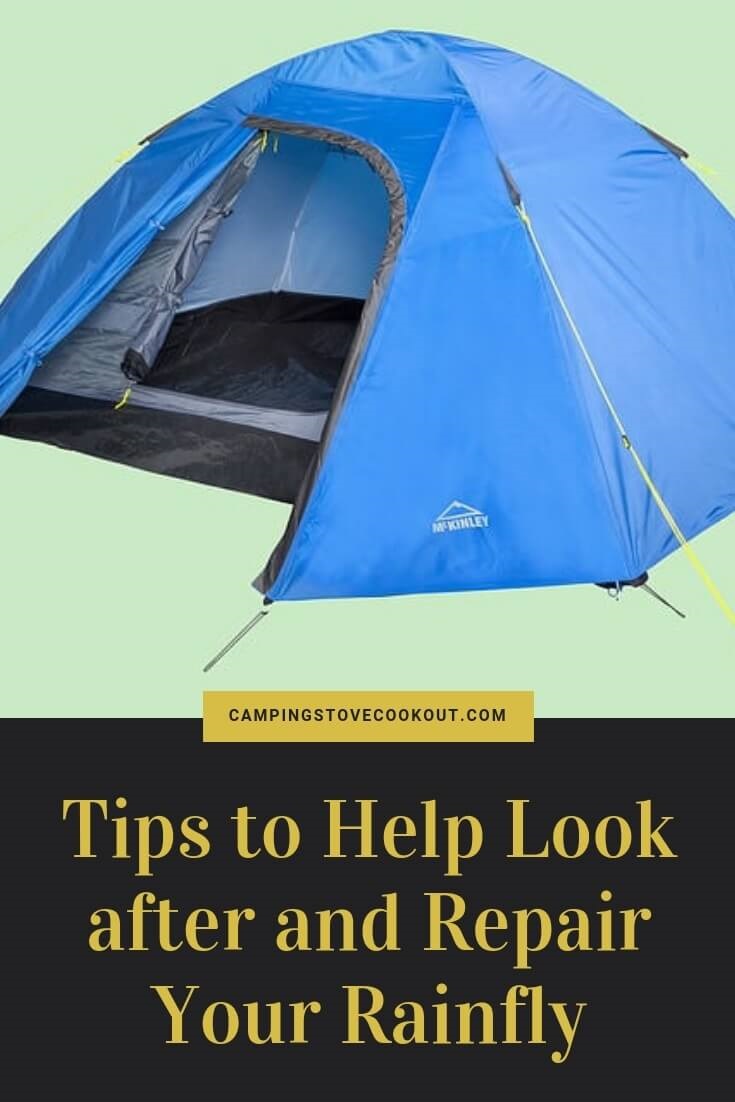 A rainfly is the outer sheet that goes around the tent to add an extra layer of protection. Not all tents have a rainfly, some smaller tents that are designed for brief fair-weather camping don't need one. But it's recommended on larger tents or if you will be camping in the wet and windy, and makes a difference to how comfortable and dry you'll be in these conditions.
The rainfly acts as a shield against the elements, stopping the wind and rain from beating into the wall of your tent. You need to be careful not to touch it as this will allow some damp to work its way into the tent and you will have a problem on your hands.
The rainfly should stand alone a short distance from the inner-wall of the tent. It needs to be pitched up tight so it doesn't move in the wind. They are not difficult to pitch, most tents have poles for the rainfly to attach to and will be designed to sit in the perfect position.
With the rainfly playing such an important role in keeping you dry and shielded from the elements you need to keep it in tip-top condition. Damage can happen over time, you should routinely check for damage and make repairs as soon as you spot them.
Here are some tips to keep your tent and rainfly in great condition, extend the life of your tent, and some useful tips to make repairs should you need to.
Maintaining Your Rainfly
Seeing as the rainfly acts as a shield to the outside world it's going to get dirty. Cleaning your tent probably isn't high on your list of fun things to do, but it's very important. Brush all the dirt and dried-on debris off with a soft brush as soon as you get home from a trip. Then wash the fabric down and brush the water off, this should give the sheets a good clean.
An important note here is to never store your tent while it's damp. Mould and mildew is damaging and incredibly hard to get rid of once it's started to breed within the fabric of the tent. Allow your tent to dry out in natural air before storing it.
Repairing Your Rainfly
Small tears and holes are going to happen. The key is to catch these rips early and patch them up before they become more serious. If you spot a small tear while you're camping you can patch it with some gaffer tape as a quick fix. Ideally, you will have some proper tent repair kits, these are patches that do the same thing but much more securely.
Pay special attention to zips and the fabric around zippers. This is usually the first area where a tear will appear. Keep the zips well lubricated so you don't need to use force to use them.
How to Patch up a Hole or Rip in Your Rainfly
As mentioned above, tears and holes are not uncommon and one method of repairing your rainfly is to use a patch to cover the rip and maintain a nice waterproof rainfly.
Here is a step-by-step guide to help you make your own repairs:
Step 1 – Either use a pre-cut patch or cut a patch from a roll of patching tape that covers the entire area with about half an inch overlap around the damage. If you're cutting a patch try to cut a nice smooth oval shape, edges will make it easier for the patch to peel off in the future.
Step 2 – You are going to apply the patch on the inside of the rainfly first. Give the area a good clean and lay the rainfly somewhere flat where it can be pulled taught.
Step 3 – Pick up some Seamgrip, it's the best glue for sticking patches to tents that last. It's a washable glue that doesn't breakdown in extreme temperatures, and it's easy to work with.
Step 4 – Apply the glue to the patch covering the entire area and overlapping the edges of the patch a little. Hold or place an object on the patch to help it set without moving.
Tip – Don't forget to wear gloves when using glues, you don't want to find things sticking that you didn't intend to!
Step 5 – Leave the patch to dry for around 12 hours.
Step 6 – Follow the steps above again, this time applying a patch to the outside of your rainfly. You need to patch up both sides to form a tight waterproof bond.
Step 7 – After waiting for the glue to dry for 12 + hours take a close look at the patch. Pour some water on and test it's waterproof and has fully bonded all over.
Packing up Your Tent and Rainfly
All tents are different and you might have a custom carry case or some practices that are unique to the tent. But generally speaking, here are the steps you should go through when packing away your tent safely.
Make sure the tent is free from dust and debris and brush it if necessary

Check the tent is completely dry, if not hang it somewhere to dry out naturally

Don't pull all the zips completely closed, allow air to escape if trapped inside as you pack it

Push poles out from their sleeves carefully and stack them

Fold the tent to the size you want it while gently pushing out any trapped air

Use any ties or straps the tent provides to wrap it and pack it back into its carry bag
---
That covers everything from taking good care of your rainfly, to making repairs that are going to save you time and money in the long-term. If you have any questions or queries about any of the above or have something to ask me – please feel free to contact me.