Bicycle Camping | Do what You Love more often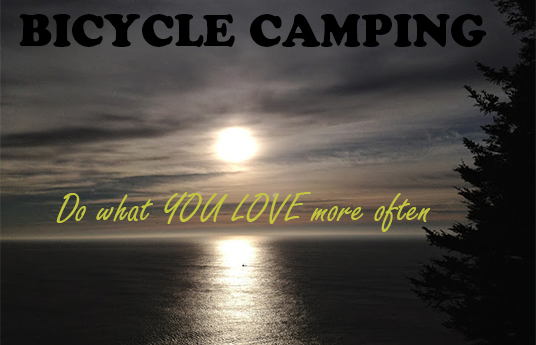 I love biking! Road biking, mountain biking, bicycle camping, it's all good.  Now that I have two young kids it's as difficult as ever to get out and do it. I still take my road bike to work, get the occasional crazy downhill mountain bike ride in, and get out on the trail for a bike camping trip every once in a while.
There is one trip that has allowed me to get out bike camping more than any other and requires a mountain bike to get the job done. I want to share a story of a good friend who turned this basic mountain bike trip into a story that none of us will ever forget.  I will also share some of the basic gear you will need if you are planning your own bike camping trip.
I will finally touch on a few tips that will help you do the things you love more often. Even if you don't love bicycling, think of that one thing you love, but don't get out to do as often as you like.  I will share these tips to help you towards that end.
But first, find out how Paul made this Deschutes trip epic.
An Epic Bicycle Camping Trip
The Deschutes River is my second home. Nestled in a desert river canyon, it runs cold and clean from its headwaters in the Cascade mountains to the confluence with the massive Columbia River. The ultimate river experience for me is a float trip down the river. But, if I can't do this float trip, a mountain bike trip through the canyon is my second choice.
Although I have done this mountain bike ride a number of times, the most memorable was completed by my good friend Paul.  It was our deer hunting trip (aka the cast and blast trip) and Paul wasn't able to make the trip because of complications with his kid who was in the hospital.
 I new Paul loved fishing, but didn't understand how extreme his fishing and hunting passion was until this trip.
We woke up an hour before light on opening morning of deer hunting and as I looked up I noticed a dark shadow coming down from the trail.  It was Paul, and he had made it to deer camp on time.
After it turned out that his kid was ok, he packed his bike, loaded his gear and drove 4 hours through the night to make it to camp.  He had to mountain bike up the trail with his pack, gear, and gun 15 miles to camp.
Later that day Paul shot a nice buck, dragged in down the 2000′ mountain and back to camp.  We hung it and dressed it out and I think Paul even caught a steelhead that night.  He did all of this in a 24 hour period with just a couple of hours sleep on the cold dirt ground before he met us that morning.
We are not all going to be as extreme as Paul was during this trip.  But if you do plan on getting out for a bike camping trip, I want to share some of the gear that I have used and that Paul used on this amazing Cast and Blast trip.
Camping Gear Links and Lists
When doing a bicycling camping trip, you basically will have similar gear to what you would have on a backpacking trip.  Here is a great link to some of the main gear items you will need for your biking trip.   A small camping stove, water filter,  dinner items and snacks are key choices you will have to make.
You will also need to determine where to go on your camping trip.  Tip #6 on the previous link might be worth checking into if you haven't tried the meetup resource before.
Take a look at this link for an additional resource to bike camping, also known as bike touring.
I am going to do a quick run down of the key gear items you need for your trip.  If you need a master camping gear list see this link.  Or if you need a few tips in choosing the key gear take a look here.
5 Gear Categories:
The main items for any trip are a mountain bike, bike trailer, spare tire, pump, repair kit and water bottle.  It might also be nice to have a computer to keep track of your mileage.  Instead of a trailer, try bike saddles to stream line the experience.  After you have covered the bike accesories, the camping gear is next.
1. Camping Gear
Key items here include a tent or tarp, sleeping pad, sleeping bag and any other luxury items.  I always have brought in a small fold up chair kit for my comfort item.
2. Cooking Gear
A stove, cook set and water filter are key items for my trip but you might be able to avoid these if you are on a road biking trip.  Depending on the length of time and location, you might not need water purification.  There is some super lightweight gear these days so take a deeper look if interested.
3. Food
You can go the super easy freeze dried meal planning route or plan on cooking your meals each night.  I usually take along cliff bars to snack along the way, but take a look at this link to make your own snacks.  If you will be biking along the road then you might be able to pick up groceries along the way.  If you are on a remote biking trip then you will want to go super light.
4. Clothing
Layer polypropolene type clothing is key.  A light rain jacket, stocking cap, gloves and glasses are all important items to have along.  A light pair of sandles is another luxury item that's nice for the evening after taking off your biking shoes.  This link provides some great tips for the type of cycling clothing to wear and how to care for it on your trip.
5. Comfort Items
Most people would consider an iphone an essential item these days.  But how are you going to charge it?  I recommend using solar power and this charger is one I have used with good success.  A book might be nice although now days audio books or ebooks are easier and lighter.
What else do you bring camping that is not totally essential?  Can you live without it for a few days?  Your body might thank you if you try and lighten your load next time you are out.
5 Tips to help do what you love
Now I want to help you discover some tips that will help you do what you love.  Here are a few tips that help me go biking and do other important things more often.
1) Get an easy win
Get an easy win by planning on one day a week to start of with. We all want to do this stuff everyday, but there is a limited time. If you can just start with one day a week, you will feel so much better. Once you get in the routine of one day a week, you can add another as you feel like time allows.
2) Schedule it
Look ahead to the week or month in front of you and put it in the schedule and write it down. Write it down. Research has shown  that you are 42% more likely to achieve your goals if you write them down.
3) Tell everyone your plan
Tell everyone what you are doing and get there support. I quit chewing tobacco a few years back and this was a critical piece. It's about having people hold you accountable. You will be less likely to give up on doing that thing you love if people are holding you accountable. Maybe it's getting to the gym. Tell your partner or friend and let them know your plan.
4) Celebrate small wins
You should always celebrate your small wins. After you have succeeded with your first milestone, celebrate it even if it's a minor goal. For additional information on this point take a look at this article.
5) Set Goals
Ok, ok, I know, everyone has heard to set goals.  But, it really works.  I consistently find that by sitting down, setting goals, reviewing them and updating as I go, I am achieving more these days.  I like to think of goals and objectives as a partnership. The goal is the big picture you want to acheive. The objective is the road map to get there. Make sure to make your goals SMART and you will be well on your way.
Conclusion
I don't get out camping or biking as much as I used to because of a busy schedule.  But, I have found a few tips that have enabled me to bike and do the things I love more often.  The gear list and tips summarized hear should help you get out to do the things you love more often as well.  And I hope Paul's story inspires you to just get out and do it even if you are short on time.
If you are planning a bicycle camping trip in the near future leave a comment below or check out the community on Facebook.  I would love to hear your story and how you applied some of the tips or stories listed here.