Weber Go-Anywhere Charcoal Grill Review
The Weber Go-Anywhere Charcoal Grill provides a unique, and satisfying cooking experience. In today's market we are spoiled for choice with high powered stoves that are quick and powerful to use. And while these types of stoves/grills offer a convenient way to cook while outdoors, they can't honestly match a charcoal grill for a great outdoor cooking experience.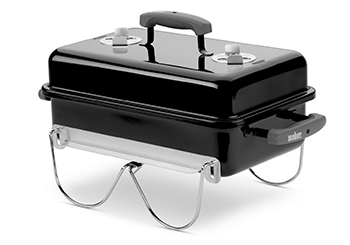 As the name implies, you can 'Go-Anywhere' with this grill, it's small enough and portable enough to take with you wherever you're heading. It is easy to set up as will be explained in more detail.
At its low price point it's not hard to understand why it has been in production for so many years, and is still a fan favorite today.
Setup and Design Features
The Weber Go-Anywhere has been in production for over 20 years. A lot of the features have stayed fairly consistent, obviously some modernizing of the coating and handles has taken place. But, overall it is a very similar grill to the first ones made, and why fix something that isn't broken, right?
It's designed with portability in mind, so it's fairly compact. You can fit up to 6 burgers, or a couple of large steaks on the grill easily enough. The cooking grate is easy to remove for cleaning and treating.
Click here for Deals, Reviews & Pricing
The legs double up as a locking mechanism when transporting the grill, just simply swing them around from the standing position to holding the lid on tight and locking in place. I have never seen or heard a negative review about the locking mechanism, so you can rest assured it is manufactured well.
The use of the Go-Anywhere grill really is as simple as setting the legs, removing the lid, and loading up the charcoal.
This is the beauty of the Weber Go-Anywhere charcoal grill, it's extremely easy and quick to set up.
Warming the coals and cooking will take a little long than powerful propane powered stoves, like the Everest for example. But the cooking experience and taste of the food makes the wait more than worth the while.  Price ranges from $40 to $60.
Dimensions – The Weber 121020 Go-Anywhere is 14.5" H x 21" W x 12.25" L, offering plenty of cooking space for 2-3 people.
The Pros
Incredibly durable and good value, owners have used this grill for over 20 years without a problem
Perfect for small gatherings
Large cooking area for a small, portable unit
Extremely easy to carry with you and set up
Great cooking experience with charcoal
The Cons
Although portable, the 121020 is fairly heavy at 14.5lbs
Charcoal is not as convenient as gas
Insider Tips
Cooking with charcoal is very different to gas. It takes longer to warm up, and you may need to change the coals on a long cook. There are some advantages to using coals however, a lot of pro charcoal users will tell you it gives a better cook and adds flavor.
Here are some tips to help you get the most out of grilling with charcoal:
Prior to cooking position the coals in a pyramid shape. This allows for ventilation through the coals helping them catch fire easier.
If you are using lighter fluid to light your coals, soak the coals with about half a cup of fluid and allow a minute for the fluid to soak in. Then use a match to light them, ensuring there are no safety issues present.
Do not use gasoline or kerosene as lighter fluid, there is a very real risk of creating an explosion.
Weber Go-Anywhere Charcoal Grill Summary
If you never cater for more than 2-3 people and enjoy the experience of cooking over hot coals this may by the grill for you. In fact, it's probably the perfect grill for you. It's hard to say there is a better example of a charcoal grill, not at the low price point Weber are offering their 121020 Go-Anywhere for.
With Weber's reputation of manufacturing quality products, and a proven track record of lasting years, value isn't in question. It's fair to say you're buying a grill for life when you buy a Go-Anywhere.
Conclusion
While there are a few really good charcoal grills on the market, Weber have established themselves as experts in this field. The 121020 Go-Anywhere has been one of the best models for many years, it has stood the test of time for the good reason – it's reliable, great value, fun, and easy to use.
If you are in the market for a charcoal grill take a closer look and read some of the positive feedback here for the Weber Go-Anywhere Charcoal Grill.  Be sure to drop me a note below and let me know how you get on.
Click here for Deals, Reviews & Pricing