Weber Go Anywhere Charcoal Grill vs Smokey Joe
When it comes to two of the best small camping grills on the market anyone who has had the pleasure of using either the Weber Go Anywhere or the Smokey Joe will tell you it's one of these two.
It's hard to split them, although there are some key differences that may sway you depending on how you intend to use your grill.
As long as you know where, how often, your budget, and a few other key bits of information.
Which is why I decided to write up this article and look at the Weber Go Anywhere Charcoal Grill vs Smokey Joe.
So you can have some of the key points, facts, and information side-by-side to help you make a decision. A pretty important decision I'm sure you'll agree.
Weber Go Anywhere Charcoal Grill vs Smokey Joe
Weber Go Anywhere Charcoal Grill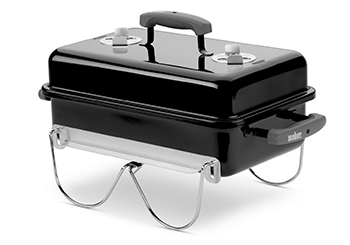 As the name suggests, this is truly a go-anywhere grill as it's suitably portable, lightweight, and easy to use. Here are some of the specifics:
How Much Food Can You Cook on It?
The Anywhere has a 160 sq-inch cooking area. More than ample for 6 large burgers, some sausages, or maybe 4 nice steaks.
So if you camp or entertain for anywhere from just yourself to a group of 4 you can easily handle the amount of food needed to keep everyone happy.
How Portable Is It?
Measuring just 21 x 12.25 x 14.5 inches and with the legs folding around and tucking over the grill it doesn't get much more portable.
It looks like a small carry case when the legs are in. Anyone can carry it by hand, or you can pack it in with some of your stuff without worry.
Construction/Durability
It's a solid little unit. Being a compact, rectangular box it feels like a small metal briefcase. The grill is a porcelain enameled grate, so it's easy to clean and will last a lifetime if looked after.
Ease of Use
Charcoal is easy to use, as long as you have good air flow. This grill has 2 adjustable dampers to regulate the flow of air, each with three vent holes.
So more than enough ventilation. Just place some coals in, light them, keep an eye on it as it warms up and you're good to go.
Click here for Deals, Reviews & Pricing
You can check my full review of the Go Anywhere here.
Weber Smokey Joe Portable Grill
The Smokey Joe has been a best-seller for Weber for many years, and it's easy to see why. It's round, lightweight, sleek looking, and delivers where it matters – cooking. Here are some of the specifics:
How Much Food Can You Cook on It?
The diameter is 14.5 inches. You can arrange 6 burgers, 3-4 large steaks, or throw all kinds of other foods on and look after 4-5 people with ease.
Personally, I prefer circular grills. It makes it easy to arrange meats and make the use of most of the space and maneuver around the grill with ease.
How Portable Is It?
Joe measures in at 15.6 x 15.6 x 9 inches. It's a strong metal finished with an enameled coating to prevent rust and fading.
It feels sturdy enough to pack away at the bottom of your backpack if it's the last item you'll need.
Construction/Durability
Just like the Anywhere, it has a porcelain enameled coated grill. Most importantly the handle is reinforced nylon, so you shouldn't burn your hand when opening the grill.
You get a 10-year limited warranty, and as you'd expect any product bearing the Weber name you don't hear of many grills letting their owners down.
Ease of Use
There are two vents to keep the air flowing and the coals warm. The bonus to having the large dome lid is that you can pull it off to warm the coals.
It's really as simple as loading with charcoal, lighting it, and grilling away though. Easier than gas and less risks, albeit a little less consistent across all conditions.
Click here for Deals, Reviews & Pricing
You can check my full review of the Smokey Joe here.
Side-by-Side Comparison of the Go Anywhere and the Smokey Joe
Size and Shape – The Go Anywhere is slightly bigger, although not enough to really make a difference in my opinion.
The rectangular shape is deceiving compared to the circular shape of the Smokey Joe. The cooking surfaces are very similar so this should be a defining factor in your decision.
I find circular grills easier to cook on and make the most of the space. It's a personal preference though, each has their benefits.
Portability – The Anywhere nudges it on portability. It's slightly more compact and the legs fold away tidily.
The only real knock on the Smokey Joe is the legs. They feel a little fragile and don't fold away when it's not in use.
Construction – Being as they are both Weber models you know you're getting a quality product. Weber has been market leaders in the camping space for a number of years, and this is built on trust and quality.
Ease of Use – It's hard to split them here as they are very similar. I give the Smokey Joe the nod as it has the large dome lid to lift off and slightly better ventilation.
Whether you're a pro or a novice however you can get to grips with either model. I love how easy they are to use, no fuss after a long day hiking when you just want to eat a satisfying meal.
Value – Being around half the price the Smokey Joe takes it for value. Seeing as it almost matches the Anywhere on all areas, being around half the cost makes it a steal if you're on a budget.
How the Anywhere and Smokey Joe Score
| | Go Anywhere | Smokey Joe |
| --- | --- | --- |
| Size and Shape | 10 | 9 |
| Portability | 10 | 9 |
| Construction | 10 | 9 |
| Ease of Use | 9 | 10 |
| Value | 9 | 10 |
| Score (Out of 50) | 48 | 47 |