Camp Chef Outdoor Oven with 2 Burner Camping Stove
I don't know about you, but one of the best things about camping for myself, my family, and friends, is the food. This Deluxe Camp Chef Outdoor Oven makes preparing and cooking food as easy as it is in the home kitchen. Designed to be as versatile as a home oven, while still being portable and quick to set up, the only question is what will you cook – not what can you cook.
Having a portable oven has never been so convenient.  Stand alone camping stoves are great for cooking at a campsite, but with an oven like this one you have more options.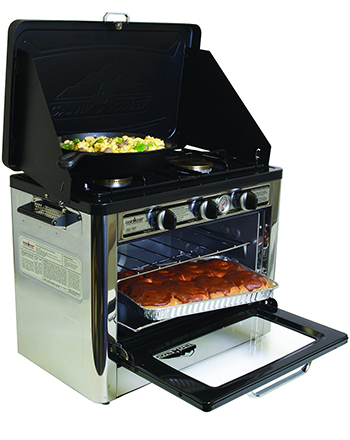 You can slow cook whole birds, do a bbq pork roast, or put pies in the oven without the worry of watching over the food like you do with food on an open stove.
Plus, it has a two burner stove too, so you won't miss having an open stove.
Setup and Design Features
The Camp Chef Outdoor Oven comes out of the box as a complete oven. You only need to open the lid and attach the windscreens, then screw in the regulator and attach a 1lb propane bottle. Once you have situated the oven in place, it's very quick and easy to use.
The stove/oven comes with two 7,500 BTU brass range burners, and oven power of 3,000 BTU. You have a built-in heat gauge on the front of the oven to keep an eye on the temperature, and fully adjustable heat-control knobs to keep the stove under control.
Click here for Deals, Reviews & Pricing
The oven is made out of stainless steel construction, while this makes the oven fairly heavy it does give you the confidence that it is built to last. The oven box is insulated to maintain efficiency when in use, and the oven racks are removable for ease of cleaning. The cooking surface is non-stick enamel, great for outdoors use and cleaning immediately after use.
Take a look at this link if you are interested in discovering additional camping utensils or this link for an inexpensive baking pan set for the camping oven.  Or if you need a complete car camping checklist, take a look at this link for a one page pdf.
Dimensions – The Camp Chef Deluxe Outdoor Camping Stove overall size is 18" H x 21" W x 12.5" L, with the inside oven dimensions being 9" H x 16" W x 11" L. This means a 9 x 13 pan will easily fit inside, so cooking anything from bread and cookies to a roast dinner is a breeze.  Prices range from $160 to $230.
The Pros
Great value for money, outdoor deluxe ovens have never been so affordable
Very easy to use and versatile, cooks almost anything – check out our camping recipes section if you need any ideas
Well made durable product from a trusted brand
Comes with a Camp Chef one year warranty
Holds a temperature up to 350° F for up to 7 hours
Matchless ignition
The Cons
Heavy, bulky unit, not easy to carry around
Only 7500 BTU per stove burner
Some issues with achieving exact temperatures in the oven
Insider Tips
When investing in a quality product such as this outdoor camping oven I recommend buying the protective carry case. It's a small extra to give you peace of mind that your stove is protected in transit, plus you get some carry handles to help you when moving it outdoors.
A stove top griddle adds another layer of enjoyment to the camp cooking experience.  Take a look at the Mountain Series Griddle for the model that works with this stove top.
If you are going to be outdoors for several days, it's worth taking into consideration that a 1lb propane bottle lasts around 7 hours. Keeping in line with the outdoors motto – always be prepared. Pack a spare propane bottle, it's easy to get carried away cooking more than you planned with this oven.
Camp Chef Outdoor Oven Summary
This oven adds a touch of luxury to outdoors cooking. It caters well to larger groups of campers, and at it's current price you'll be hard pushed to find a stove that can do more for the money. It's great for both beginners and experienced outdoors folk.  Adding the potential to oven cook adds a new element to camping, especially if you have been using a smaller 2-burner camping stove previously.
Conclusion
All things considered, the Camp Chef 2 Burner Outdoor Oven makes a great camping companion. While it is obviously not for backpackers to carry with them, if you can park up at a campsite and set this oven up you'll be the envy of those around you. I cannot recommend it enough and would love to hear and feedback once you have put it through the paces.
Click here for Deals, Reviews & Pricing