Olicamp Ion Micro Stove Review
The Olicamp Ion Micro Stove is designed and targeted at the minimalist or ultra-light backpackers among us. If you fall into these categories you're in for a treat.
This stove tucks away and goes almost unnoticed while backpacking, then performs with the best when put to task boiling water or cooking a meal.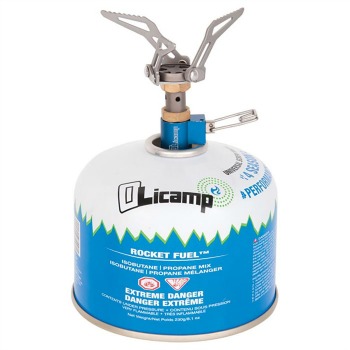 It has some nice little touches that sets this stove apart from some of the others in it's class. It also comes in at a very affordable price, so read on and see if this stove piques your interest.
Setup and Design Features
It's hard to believe it when you look at it but this stove only weighs around one and half ounces. So it's going to tick the box for the weight conscious backpackers. When it comes to setting it up it couldn't be any easier, or quicker.
The Oilcamp Ion stove has a small burner which produces a narrow flame. This means you have a more concentrated flame for a smaller surface area, so I would say this stove performs better boiling water than cooking a pan of food for example.
It has three pot supports that fold away when not in use. They have a spread of 3" so as you can see you're not going to hold large pots. Oilcamp have a pot called the XTS that's designed to fit this stove, so that's worth checking out.
Click here for Deals, Reviews & Pricing
The stove does not come with a windshield, you will need to take one of your own to get the most from the stove while cooking. But when trade off the small and lightweight pluses against the lack of stability, I think it's more than worth the trade.
Dimensions – 1.25" x 2", and weighs 1.5 oz
Comparison Information
Something that can't be beat by many other stoves in its class is its weight. Top rated stoves like the Snow Peak Gigapower is 5.6 oz, and the Optimus Crux is 3.3 oz. As mentioned above, the Oilcamp Ion micro stove is a little less stable, but this is understandable.
This puts the Ion near the top of the class when it comes to being portable. You're not going to boil large pots of water, or cook complex meals. But for a backpacker, it's more than suitable and certainly worth taking a closer look.
Pros
Affordable price point and good value for money

Incredibly light and portable

Quality construction
Cons
The drawback to being so light is reduced wind resistance

The small pot stand is limited to what it can hold
Insider Tips
I recommend buying a windscreen seeing as the Ion doesn't come with one. I also suggest finding good level ground to set the stove up too as it's so light. Follow these tips and you should have no problem holding a good simmer and controlling the flame.
OliCamp Ion Micro Stove Summary
There's no questioning how light, portable, compact and well-designed this stove is. It performs great too, certainly stacks up well against all its competitors.
It's not perfect, and does fall short in rough weather conditions. But as a backup stove, or a solution to some simple cooking needs, it's one of the best on the market.

Conclusion
If you want to keep your backpack as light as possible and still have a great little stove as a companion, you may have found it here with the Olicamp Ion micro stove. Click the link below to check the latest price and browse some more feedback from users.